Cobalt Miners News For The Month Of December 2017 2018-01-03
Summary
Cobalt spot price news - Cobalt spot prices rise sharply.
Cobalt market news - "Electric vehicle revolution a rare investment opportunity as metals demand spikes." "BMW sees 10-fold jump in its need for battery materials by 2025."
Cobalt miner news - Katanga Mining production recommences with an increased cobalt target to 30ktpa (life of mine).
Welcome to the December 2017 cobalt miner news. Below is a background on my earlier articles on the cobalt miners.
May 2016 - "Cobalt Miners Set To Boom"
December 2016 - "A Look At The Junior Cobalt Miners"
December 2016 - "Top 5 Cobalt Miners To Consider"
March 2017 - "Top 3 Cobalt Miners To Accumulate"
September 2017 - "Top 3 Cobalt Juniors To Consider"
Cobalt price news
As of December 21, the cobalt spot price was US$34.02, rising very strongly from US$27.67 this time last month.
Cobalt spot prices - 1-year chart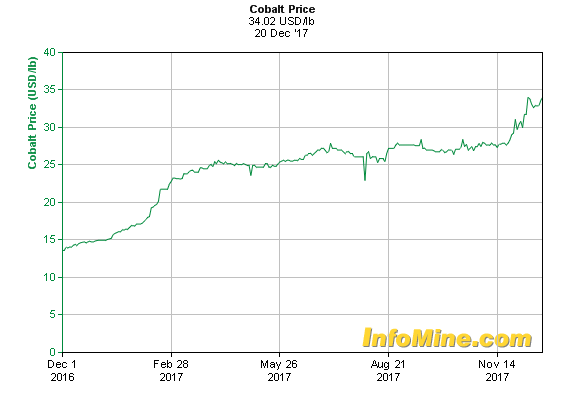 Source: InfoMine.com
On November 21 at the Hard Asset Conference Mike Beck stated he sees cobalt prices going much, much higher "in excess of (NYSEARCA:USD) 100/lb" as you can view in his video here (15.20 mark), "Mike Beck: Nickel, Cobalt, and Lithium to Benefit From Generational Demand Shift in Commodities." Current cobalt prices are around USD 34/lb.
On December 4 Platts.com reported, "Cobalt prices seen rising sharply as deficit balloons: BMO. Cobalt prices are likely to rise significantly in the next two years as the industry struggles to meet rising demand from batteries used in electric vehicles, BMO Capital Markets said Monday. It sees the annual average cobalt price peaking at $40.50/lb ($89,290 mt) in 2019, from current levels of about $30/lb and does not rule out the possibility of cobalt prices doubling from current levels in the timeframe."
Cobalt demand and supply
Cobalt demand is forecast to grow strongly due to demand from electric vehicles (EVs); however supply is very constrained, leading to the current cobalt deficit.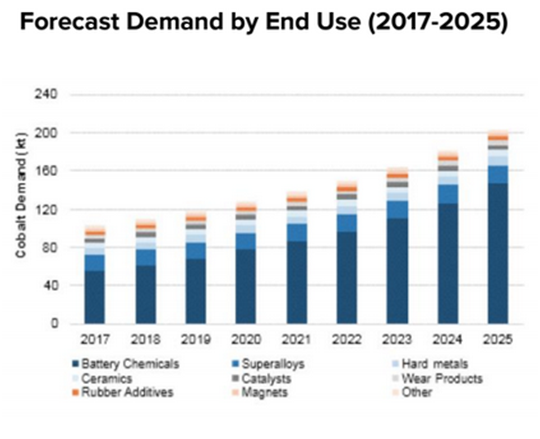 Source: Canaccord Genuity Research
CRU stated earlier in 2017 it "expects 900 T (tonnes) cobalt deficit this year." Investing News state that Macquarie Bank forecasts "a deficit of 885 tonnes is expected next year (2018), with deficits of 3,205 tonnes and 5,340 tonnes expected in 2019 and 2020, respectively."
My cobalt production table (work in progress)
Cobalt miner (tpa)

2017

(estimate)

2018 (forecast)
Chinese (Jinchuan, Huayou Cobalt, Jiangsu Cobalt)
47,000
China Molybdenum (OTC:CMCLF)
15,909
Glencore (OTCPK:GLCNF) (Minara, Mopani, Mutanda)
29,000
40,000
Katanga Mining (OTCPK:KATFF) (plans ~11,000tpa in 2018, and ~34,000tpa by 2019 if demand is there)
0
11,000
Sherritt International (OTCPK:SHERF)
~7,000
?reduced
Umicore SA (OTCPK:UMICF)
6,500
Vale (NYSE:VALE)
~6,000
ERG - ENRC (Chambishi) (plus an additional ~14,000tpa from ~2019)
?4,317
Sumitomo (27.5 % Ambatovy Nickel, Madagascar)
4,500
ICCI
4,000
Zambia
4,000
Norilsk Nickel [LSX:MNOD] (OTCPK:NILSY)
~5,500
Freeport-McMoRan (NYSE:FCX)
~2,000
Others - S.Africa (1,230)
5,000
TOTAL
~130,000
~140,000
NB: My estimate is 140,000tpa cobalt production for 2018 (my demand forecast for 2018 is 146,000tpa). Exane BNP Paribas forecasts ~200,000mt market by 2022, and 300,000mt by 2025. Also note Glencore includes their share of Katanga Mining in their figures. Glencore/Katanga expect to reach 60,000 tpa by end 2019. I will know better the 2018 forecasts by Jan. 2018. ut this article: