Sintered SmCo Magnets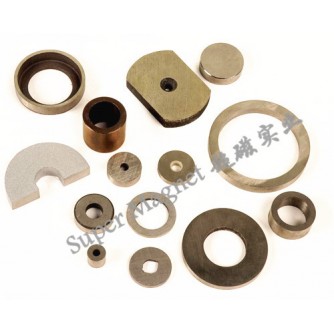 SmCo magnet is also named with SmCo magnetic steel, SmCo permanent magnet, SmCo permanent magnetic iron and rare-earth cobalt permanent magnet. It is a high performance, low temperature coefficient permanent magnet with its high working temperature-350 degree centigrade. When working above 180 degree centigrade, its maximum energy product BH and steady temperature are superior NdFeB magnetic materials. It needn't to be coated because it is difficult to be eroded and oxidized.
More product photos please visit

Gallery menu .
Application field
The SmCo magnet is widely used in motors, watch, transducers, instruments, positional detector, generators, radar communications, medical equipments, various magnetism spreading devices, magnetic processor, electrical engineering and magnetic derrick. The Smco permanent magnet can be used in high-temperature, high-humidity and corrosive environment.

Magnetic Properties
Type

Grade

Remanence (Br)

Coercivity Force(Hcb)

Intrinsic Coercive Force(Hcj)

Max. Energy Product(BHmax)

Maximum Operating Temp.

mT

kGs

kA/m

kOe

kA/m

kOe

kJ/m3

MGOe

SmCo5

YX-18

850-900

8.5-9.0

660-700

8.3-8.8

1194-1830

15-23

127-143

16-18

250 ℃

YX-20

900-940

9.0-9.4

676-725

8.5-9.1

1194-1830

15-23

150-167

19-21

250 ℃

YX-22

920-960

9.2-9.6

710-748

8.9-9.4

1194-1830

15-23

160-175

20-22

250 ℃

YX-24

960-1000

9.6-10.0

730-770

9.2-9.7

1194-1830

15-23

175-190

22-24

250 ℃

Sm2Co17

YXG-24

950-1020

9.5-10.2

637-732

8.0-9.2

1433-1990

18-25

175-190

22-24

300 ℃

YXG-26

1020-1050

10.2-10.5

748-796

9.4-10.0

1433-1990

18-25

195-215

24-26

300 ℃

YXG-28

1050-1080

10.5-10.8

756-796

9.5-10.0

1433-1990

18-25

205-220

26-28

300 ℃

YXG-30

1080-1100

10.8-11.0

788-835

9.9-10.5

1433-1990

18-25

220-240

28-30

300 ℃