Featured Products
Contact Us
Super Magnet Co.,Ltd.
Address: Qianjiang Art Center 22-10,Bulan Rd 58,Nanwan Street,Longgang District,Shenzhen,Guangdong Province, China
Phone +86 755-89898097
Mobile +86 18811885765 / 18926565595
Fax +86 755 89898097
Email sales@spmagnet.com
Skype Chernice.li
Magnetic Filter Bar/plate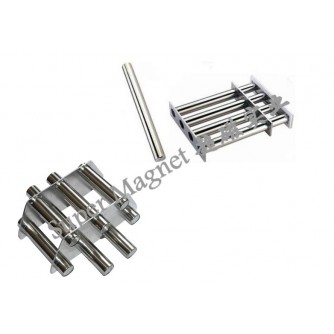 Magnetic filter bar and plate is designed to get rid off iron/steel substances in liquor then be used in various fields such as chemical industry, foodstuff industry, medicament, feedstuff industry and so on. It is constructed from magnetic filter bar,stainless steel and have a satin finish, then fixed onto a framework. The magnetic filter bar is made of permanent magnets and stainless tubes with special magnetic circuit. The normal diameter of magnetic filter bar is available from 20mm to 40mm.And its magnetic flux can reach 12000GS.But size and length of the magnetic filter bar, and shape of the framework will vary at clients' requests.
More product photos please visit
Gallery menu .