Featured Products
Contact Us
Super Magnet Co.,Ltd.
Address: Qianjiang Art Center 22-10,Bulan Rd 58,Nanwan Street,Longgang District,Shenzhen,Guangdong Province, China
Phone +86 755-89898097
Mobile +86 18811885765 / 18926565595
Fax +86 755 89898097
Email sales@spmagnet.com
Skype Chernice.li
Pot Magnets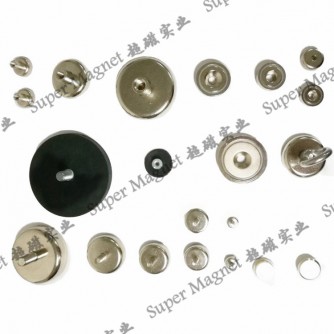 Pot Magnets/Holding magnets
are widely used in your life. You can use them to hanging bird cage, your bags, your dress, and so on. You can clip note paper, note pads, and working plan with magnetic clips.
Magnetic Ring is super powerful. It is made of Neodymium Magnet and you can hang keys or chains. It is very useful in your warehouse and stores.
Pot magnets are made up of magnets (NdFeB, SmCo, AlNiCo or Hard Ferrite) and other spare parts, such as metal, plastic, rubber and other components. Sometimes Pot magnets can meet some special requirements while a single magnet can't do. In the meantime, using pot magnets can save more cost than just using magnets and gain the same purpose.
Typical Products :
Product List: