Featured Products
Contact Us
Super Magnet Co.,Ltd.
Address: Qianjiang Art Center 22-10,Bulan Rd 58,Nanwan Street,Longgang District,Shenzhen,Guangdong Province, China
Phone +86 755-89898097
Mobile +86 18811885765 / 18926565595
Fax +86 755 89898097
Email sales@spmagnet.com
Skype Chernice.li
Motor Magnets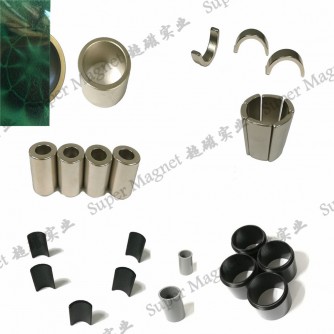 Motor Magnets
(Download datasheet of motor rotor magnets)
Magnetic technology for the DC motor market delivers the ability to push the limits on miniaturization, efficiency and performance. our customers wish to achieve extreme performance in motor design . Our customers challenge us to design motors and actuators with features such as:
High force to mass ratio

High speed moving coil designs

Harsh environment withstand capability
The types of motor using permanent magnet such as :
dc motor magnet

Brushless motor magnet

Servo motor magnet

Stepper magnet

Linear motor magnet

PM motor magnet

irregular motor magnet

Automobile motor magnet /Car motor magnet
High performance actuator and motor design requires the use of materials that push the limits of material science. Magnet material selection is critical and we can assist in the selection of the best material. Tradeoffs in the selection include temperature, residual induction, coercivity and environment.
Typical Products
Application Field
» Application of Permanent Magnets for MW Wind Generator
» Application of Permanent magnet for VCM
» Application of Permanent magnet for Linear motor

» Application of Magnet Gear /Magnetic Wheel
Relative Products :