Featured Products
Contact Us
Super Magnet Co.,Ltd.
Address: Qianjiang Art Center 22-10,Bulan Rd 58,Nanwan Street,Longgang District,Shenzhen,Guangdong Province, China
Phone +86 755-89898097
Mobile +86 18811885765 / 18926565595
Fax +86 755 89898097
Email sales@spmagnet.com
Skype Chernice.li
Arc Neodymium magnets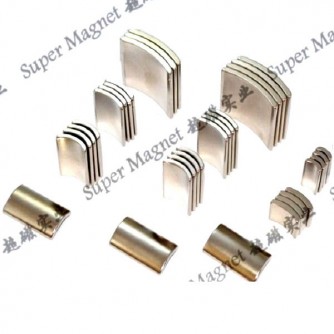 Arc Magnet /Segment Magnet / Tile Magnet
Super Magnet Co.,Ltd could provide the specific permanent magnet solution according to customer's application requirements. As an all-in-one magnetic solution provider, Super Magnet is able to produce standard and also customized permanent magnet shapes and sizes in prototype or production quantities.
Coatings:
( Detail coating opition for Sintered NdFeB magnets
)
Magnetic Properties:
(Download Magnetic Property Datasheet of Sintered NdFeB Magnets
)
Magnetizing Type:
(Detail with Magnetizing type
)
Typical Magnets:
Notes: Customized specification magnets are available .

Relative Products :
Other type of Sintered Neodymium magnets